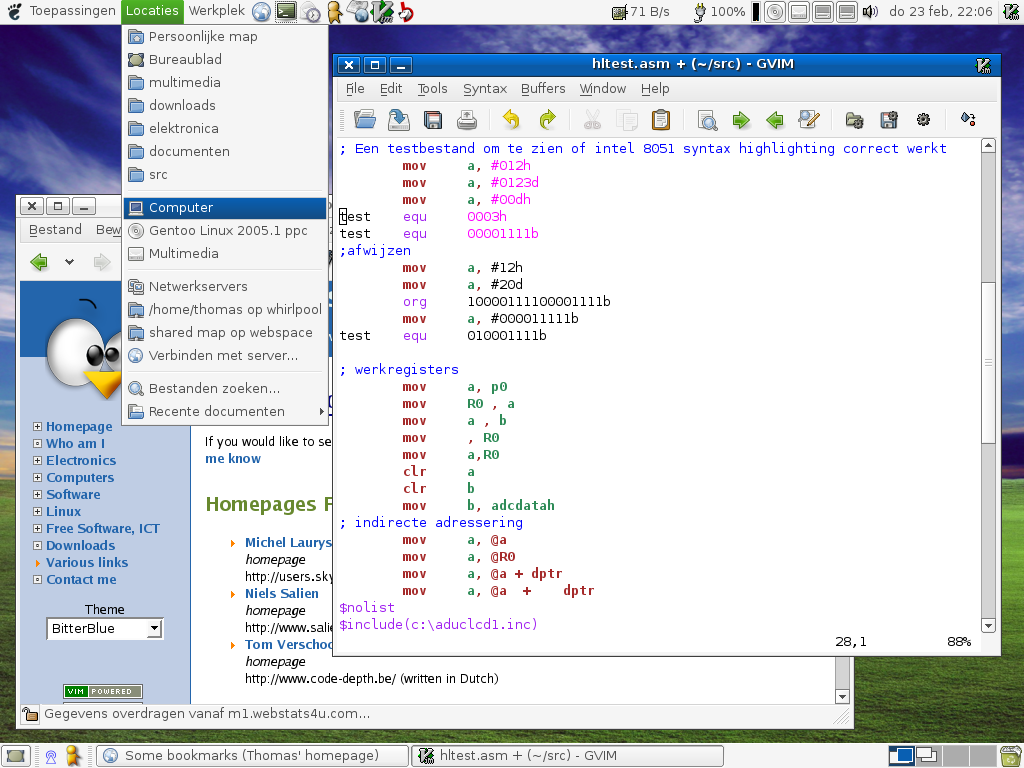 Here are some screenshots (anno 2006).
Introduction
The first thing Windows users notice when they see Linux is the different looking desktop environment.
Linux is a very flexible and modular operating system. In the case of Mac OS X and Windows the GUI is more tightly coupled to the operating system itself. Windows is the most extreme example, it's almost impossible to strip of its GUI.
When used as a server, a Linux system can be run without a GUI at all, the system can be administered via the network through SSH or a web-style administration interface.
In Linux, the graphical user interface (GUI) is composed of a collection of replaceable but cooperating programs. Because of this, the different Linux distributors can pick the programs they like, and ship those in their standard configuration.
The fact the Linux GUI is not standardised or uniform can be seen as a disadvantage to the wide-scale adoption of Linux on the desktop. There are however lots of projects to unite the different desktop environments under a common roof; like the Freedesktop.org initiative.
Many users choose to replace the different parts and create a personalised and unique desktop environment. With these facts in mind, you can understand the thousands of faces a Linux desktop can have.
A bit of terminology
As I mentioned, the desktop is divided into different programs.
The panels provide a (mostly rectangular) space that is at all times visible. They are put at the sides of the screen and are fitted with program starter icons, task lists and things like the Applications menu
The window manager is a program that puts window borders and a title bar around each window. It also provides the Alt-Tab menu for switching between windows. Most window managers implement Virtual Desktop's, a popular feature that allows you to organise your windows. You can use this to e.g.: keep personal and professional tasks separate or keep all your internet related windows on a virtual screen. Switching between virtual desktops is done with Ctrl-Alt-(left and right arrow).
The desktop window shows the wallpaper with icons like 'My Computer', 'My Documents' and the Trash can.
Freedom of choice
You can choose which desktop environment you like most and wish to use. There are a lot of desktop environments available; the most popular being GNOME, KDE and XFCE. You don't have to worry about picking one if you are new to Linux, each Linux distribution comes with a sane default.
Screenshots
I have tried most of the desktop environments and window managers.
I show off my most favourite configurations here in the form of screenshots.
Keep in mind these are not meant to scare you away from trying Linux :-). The more weird-looking screenshots are meant to show you how customizable Linux is.

Dropline theme with gvim and nautilus
droplinetheme.png

Gnome 2.14 and GVim
gnome-ibook-gvim.png

XFCE4: K3B copying a cdrom
k3b-cdcopy.png

XFCE4,Aquativo gtk theme, Aqua qt theme, Agua window border
xfce-quantasylpheed.png

XPDE: with OO.org Writer
xpde-oo.jpg