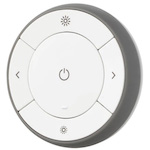 When I started working in my home office full-time during COVID-19 lock down, I wanted a remote control to easily pause my music whenever a Teams call or meeting started.
I had an IKEA 'hockeypuck' ZigBee control laying around that could easily be commissioned onto my home assistant setup, which is controlling my Music Player Daemons.
The fact that it's a nice big button that can be easily tapped, makes this great as a music pause button!
The automations are quite lengthy, but for your information, I provide them here...
-

 

alias

:

 

'Ikeapuck

 

MPD

 

on'




  

trigger

:




    

-

 

platform

:

 

state




      

entity_id

:

 

sensor.ikeapuck_action




      

to

:

 

'toggle'




  

condition

:




    

-

 

condition

:

 

state




      

entity_id

:

 

media_player.mpd_zolder




      

state

:

 

"off"




    

-

 

condition

:

 

template




      

value_template

:

 

"{%

 

if

 

not

 

is_state_attr('media_player.spotify_thomas_langewouters','source','Zolder')

  

%}true{%

 

endif

 

%}"




    

-

 

condition

:

 

template




      

value_template

:

 

"{%

 

if

 

not

 

is_state('media_player.spotify_thomas_langewouters',

 

'playing')

 

%}true{%

 

endif

 

%}"




  

action

:




    

service

:

 

media_player.turn_on




    

data

:




      

entity_id

:

 

media_player.mpd_zolder





-

 

alias

:

 

'Ikeapuck

 

spotify

 

on'




  

trigger

:




    

-

 

platform

:

 

state




      

entity_id

:

 

sensor.ikeapuck_action




      

to

:

 

'toggle'




  

condition

:




    

-

 

condition

:

 

state




      

entity_id

:

 

media_player.mpd_zolder




      

state

:

 

"off"




    

-

 

condition

:

 

template




      

value_template

:

 

"{%

 

if

 

is_state_attr('media_player.spotify_thomas_langewouters','source','Zolder')

  

%}true{%

 

endif

 

%}"




    

-

 

condition

:

 

template




      

value_template

:

 

"{%

 

if

 

is_state('media_player.spotify_thomas_langewouters',

 

'paused')

 

%}true{%

 

endif

 

%}"




  

action

:




    

service

:

 

media_player.media_play




    

data

:




      

entity_id

:

 

media_player.spotify_thomas_langewouters





-

 

alias

:

 

'Ikeapuck

 

MPD

 

off'




  

trigger

:




    

-

 

platform

:

 

state




      

entity_id

:

 

sensor.ikeapuck_action




      

to

:

 

'toggle'




  

condition

:




    

-

 

condition

:

 

state




      

entity_id

:

 

media_player.mpd_zolder




      

state

:

 

"playing"




  

action

:




    

service

:

 

media_player.media_stop




    

data

:




      

entity_id

:

 

media_player.mpd_zolder





-

 

alias

:

 

'Ikeapuck

 

spotify

 

off'




  

trigger

:




    

-

 

platform

:

 

state




      

entity_id

:

 

sensor.ikeapuck_action




      

to

:

 

'toggle'




  

condition

:




  

-

 

condition

:

 

template




    

value_template

:

 

"{%

 

if

 

is_state_attr('media_player.spotify_thomas_langewouters','source','Zolder')

  

%}true{%

 

endif

 

%}"




  

-

 

condition

:

 

template




    

value_template

:

 

"{%

 

if

 

is_state('media_player.spotify_thomas_langewouters',

 

'playing')

 

%}true{%

 

endif

 

%}"




  

action

:




    

service

:

 

media_player.media_pause




    

data

:




      

entity_id

:

 

media_player.spotify_thomas_langewouters





-

 

alias

:

 

'Ikeapuck

 

vol

 

up'




  

trigger

:




    

-

 

platform

:

 

state




      

entity_id

:

 

sensor.ikeapuck_action




      

to

:

 

'brightness_up_click'




  

action

:




    

service

:

 

media_player.volume_up




    

data

:




      

entity_id

:

 

media_player.mpd_zolder






-

 

alias

:

 

'Ikeapuck

 

vol

 

down'




  

trigger

:




    

-

 

platform

:

 

state




      

entity_id

:

 

sensor.ikeapuck_action




      

to

:

 

'brightness_down_click'




  

action

:




    

service

:

 

media_player.volume_down




    

data

:




      

entity_id

:

 

media_player.mpd_zolder





-

 

alias

:

 

'Ikeapuck

 

spotify

 

next'




  

trigger

:




    

-

 

platform

:

 

state




      

entity_id

:

 

sensor.ikeapuck_action




      

to

:

 

'arrow_right_click'




  

condition

:




  

-

 

condition

:

 

template




    

value_template

:

 

"{%

 

if

 

is_state_attr('media_player.spotify_thomas_langewouters','source','Zolder')

  

%}true{%

 

endif

 

%}"




  

-

 

condition

:

 

template




    

value_template

:

 

"{%

 

if

 

is_state('media_player.spotify_thomas_langewouters',

 

'playing')

 

%}true{%

 

endif

 

%}"




  

action

:




    

service

:

 

media_player.media_next_track




    

data

:




      

entity_id

:

 

media_player.spotify_thomas_langewouters





-

 

alias

:

 

'Ikeapuck

 

spotify

 

previous'




  

trigger

:




    

-

 

platform

:

 

state




      

entity_id

:

 

sensor.ikeapuck_action




      

to

:

 

'arrow_left_click'




  

condition

:




  

-

 

condition

:

 

template




    

value_template

:

 

"{%

 

if

 

is_state_attr('media_player.spotify_thomas_langewouters','source','Zolder')

  

%}true{%

 

endif

 

%}"




  

-

 

condition

:

 

template




    

value_template

:

 

"{%

 

if

 

is_state('media_player.spotify_thomas_langewouters',

 

'playing')

 

%}true{%

 

endif

 

%}"




  

action

:




    

service

:

 

media_player.media_previous_track




    

data

:




      

entity_id

:

 

media_player.spotify_thomas_langewouters





-

 

alias

:

 

'Ikeapuck

 

mpd

 

next'




  

trigger

:




    

-

 

platform

:

 

state




      

entity_id

:

 

sensor.ikeapuck_action




      

to

:

 

'arrow_right_click'




  

condition

:




    

-

 

condition

:

 

state




      

entity_id

:

 

media_player.mpd_zolder




      

state

:

 

"playing"




  

action

:




    

service

:

 

media_player.media_next_track




    

data

:




      

entity_id

:

 

media_player.mpd_zolder





-

 

alias

:

 

'Ikeapuck

 

mpd

 

previous'




  

trigger

:




    

-

 

platform

:

 

state




      

entity_id

:

 

sensor.ikeapuck_action




      

to

:

 

'arrow_left_click'




  

condition

:




    

-

 

condition

:

 

state




      

entity_id

:

 

media_player.mpd_zolder




      

state

:

 

"playing"




  

action

:




    

service

:

 

media_player.media_previous_track




    

data

:




      

entity_id

:

 

media_player.mpd_zolder